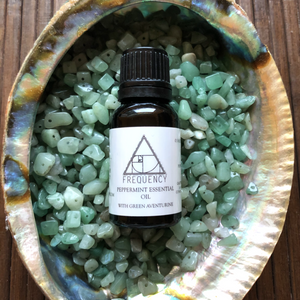 Pure peppermint essential oil is like an icy blast to the senses! It helps open up the sinuses and even deter pests. It's great for stress relief and a boost of energy. 
The pure essential oil contains green aventurine crystals. 
Ingredients: PEPPERMINT (mentha piperita) ESSENTIAL OIL, GREEN AVENTURINE CRYSTALS
CAUTION: DO NOT USE IF PREGNANT, NURSING, OR HAVE A MEDICAL CONDITION WITHOUT FIRST CONSULTING YOUR DOCTOR. KEEP OUT OF REACH OF CHILDREN! FOR EXTERNAL USE ONLY.
0.5oz amber glass jar with pure essential oil and green aventurine crystals